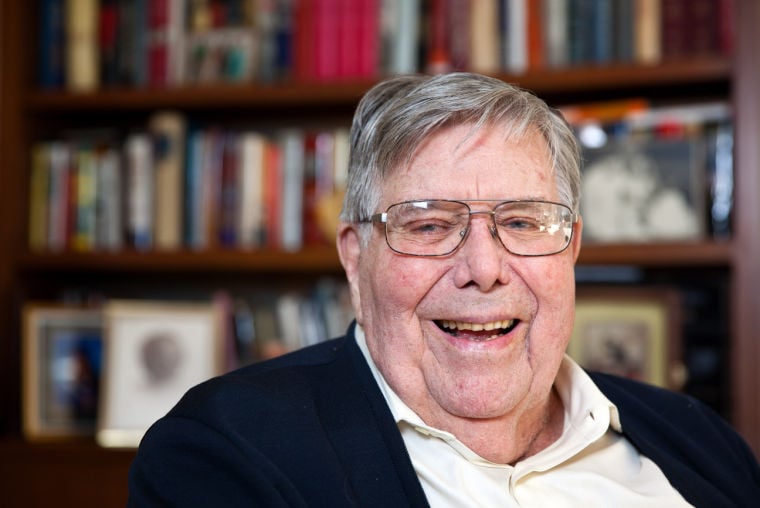 Richard D. Holland
A Man For The Ages
July 2, 1921—August 8, 2016
Holland Center for Performing Arts
August 15, 2016
Thank you Joan Squires and John and Carmen Gottschalk and all the Omaha Performing Arts Board of directors for hosting Dick's memorial service and for making the Holland Performing Arts Center all that Dick and Mary Holland hoped it would become. Thank you Deb Love for all you have done for Dick and for all of us. Thank you also Andy, Nanny and Barb for inviting me to make these remarks today.  It is an honor and pleasure for me.
I want to share one of Dick's favorite stories which is about the one legged turkey.
Dick visited a farm in western Douglas County and noticed a turkey with one leg. He asked the farmer about the turkey and the farmer responded: "Oh that is an amazing bird. Last week the barn was struck by lightning and the turkey went in and herded all the cattle out and saved them."
"That is amazing," Dick responded "but what about the one leg?"
"Well," the farmer continued "that is not all. Before the lightning episode the Elkhorn River reached flood stage and he pulled a boat in his beak to save the whole family."
 "But what about the one leg?"  Dick asked again.
"Well," the farmer replied "you don't want to eat a turkey like that all at once."
It is impossible to sum up the Wonderful Life of Richard D. Holland, but it is equally impossible, like the plot of the classic Frank Capra film, to imagine a world without Dick Holland.
Dick Holland left us a lasting legacy of love and laughter and a model for human decency. Dick was not only devoted to those family and friends gathered here today, but he was truly a citizen of the world.
There was no aspect of human endeavor he was not passionately interested in and no element of human experience that he had not examined and tried to understand. Dick Holland was as the poet John Dunne described in For Whom the Bell Tolls "involved in mankind."
Dick truly would have loved to live forever, if only his brilliant and loving doctors, Mike Sorrell, John Windle and Dan Schafer could have figured out how to pull it off. They certainly tried and they provided him with the best quality of life his body was capable of and his beautiful mind was engaged to the end.
For Dick family came first and was the foundation of everything he was. His autobiography, Truth and other Tall Tales - which Mike Yanney and I had a hand in forcing him to write with a little help from Jim Fogarty - is a touching remembrance of his parents Edward and Ellen and of his brothers, brilliant Bill and Jack and sister Jean. He describes his childhood as "A Delightful Upbringing" and it provided the basis for his hopes for every child.
The greatest joy in his life was his 58-year marriage to the love of his life, the beautiful Mary McArthur. She was his inspiration, his audience and the protector of his gentle and vulnerable nature.  The Holland Performing Arts Center was the crowning achievement of their collaboration on a joint gift to the community they loved.
They were a great team and together raised four wonderful children. Andy, Barb and Nanny provided him with a lifetime of love, joy and pride in their accomplishments and independence. Their son Dean, who died in an auto accident at the age of 20, was the delight of their lives for the time he was with them and a daily heartache for the rest of their lives.
Dick was so proud of his five grandchildren and especially delighted to be a great grandfather to Tory's son Mason.  He was always excited to have Tory and Mason visit from Fort Worth.
Jenny's recent accomplishment of passing the patent board exam pleased Dick so much because it meant his granddaughter would be on the cutting edge of new and innovative ideas.
He knew Nick was hard at work on his path to receiving his master's degree in finance and Dick eagerly awaited seeing where this path would lead Nick.
Dick really enjoyed having Joe here for the College World Series and even having him predict the victory of the Cleveland Cavaliers over the San Francisco Warriors in the NBA finals, and the idea that Joe is pursuing a career in the film production and editing was thrilling to him.
And Caleb, as you and your Brittany begin your lives together I hope you know how often your grandfather shared your lovely wedding picture that he displayed on his fireplace mantel.
For Dick next to family was friendship as a vital part of his personality and zest for life. He enjoyed people and sought out friendships and he had thousands over the course of his lifetime from childhood through his military service in North Africa and Italy, college and baseball, and his long and successful business career as one of the most effective advertising geniuses of his time. His youthful friendship with Warren Buffett and Charlie Munger proved particularly rewarding.
Dick was a man's man but as you all know was also a ladies man in the very best sense. He loved women and they loved him back. He had more women friends than any guy I have ever known. He loved the company of women and he was fascinated by their insights and perspective.
In recent years he was particularly enthralled with Marian Leary and she added to his desire to live forever.
Dick's range of interests were kaleidoscopic, his depth of knowledge encyclopedic and his passionate engagements breathtaking and even exhausting. His engagements with people were equally breathtaking and as I came to appreciate his dynamic external life was far less engaging than his internal life.
Dick loved the arts, every aspect of human creativity and expression. Of course Opera and the performing arts, (and thus the Holland Performing Arts Center) music, dance, drama and comedy, painting and sculpture but also writing and literature, poetry and architecture were all sources of great pleasure and passion. But you could not even say that is where his interest began because they had no beginning and no end. He loved science and math, all of it, chemistry, physics, biology, paleontology, geology, anthropology, astronomy, ornithology, geometry and calculus. And then there were sports. He never missed a Nebraska football game and even went back and watched the classics again. But he followed every sport and loved baseball and basketball, swimming, boxing and even bet on the favorite in the Kentucky Derby this year and won.
It was politics he really loved and told me he wished he would have run for Congress and I told him he did not miss a thing. But he did have a very comprehensive view of how people should live together and relate to each other socially, economically and politically. He was a proud liberal Democrat fiercely committed to public policies and political action that would create a more just and equitable society.  He had an unpublished book in his head he had been working on for years examining the perpetual conflict and competition between democracy and capitalism. He thought it was an essential component of human progress that this dynamic remain in constant tension, each checking and restraining the power of the other.
Dick was certainly not religious but he was spiritual and believed the human intellect was capable of providing answers to every human question. He loved Albert Einstein's observation that "the most incomprehensible thing about the universe is that it is comprehensible."
I had the true pleasure of working with him every day to advance his vision of a more just and equitable community, country and world. His efforts have had real and lasting impacts on the daily lives of our fellow citizens. Dick was the force behind restoring universal prenatal care to every mother and child in Nebraska and Nebraska remains one of only six states that ensures prenatal care for every mother and child.
He also was the person most responsible for Nebraska voters being able to vote by over 60% to raise the minimum wage in Nebraska from $7.25 to the current $9.00. The effect was to provide the 10s of thousands of working poor Nebraskans with more than $250 million in additional earnings each year. This has improved the lives of more than 35,000 Nebraskans while providing a boost to the Nebraska economy.
He shared his passion for the importance of access to early childhood education with Susie Buffett and was an enthusiastic supporter of Sam Meisels and the Buffett Early Childhood Institute at the University of Nebraska. He had an ongoing passion to improve the quality of early childhood care for the children of working poor parents as the single most important element of providing an opportunity for their future success.
We are gathered here today to share our love for a man who gave us each and all so much love. He will be for each of us an unforgettable aspect of our lives for the rest of our lives and the good that he has done for so many will live as long as the human spirit endures.
I want to conclude with the words Dick provided in the conclusion of his autobiography.
"That's about it.  I'm nine full decades old now. The performing arts society even threw a birthday party for me at the Holland Performing Arts Center in July of 2011 to mark the occasion.
We've covered a lot in this volume, had some fun, stifled a few sniffles and stared life in the face.  If some wisdom comes with age- and I believe it does- then there's at least something to be learned from the advice that old geezers offer so easily.  Here's mine: 
The only way to achieve true satisfaction in life is to put in the hours, whether those are spent in education and learning, working for or running a business, or raising a family.  Better yet, some combination of all of those is a winner for most of us. 
Good friends are essential. Find them early and keep them for life.  And never think for a second you're too old to make new ones. 
Never underestimate the extraordinary healing power of a good laugh. 
If you've had the good fortune to earn a fortune, share it generously with others.  There's no better feeling in the world than helping out where there's a real human need.
Enough said."
Old Man Holland
Do you like this post?